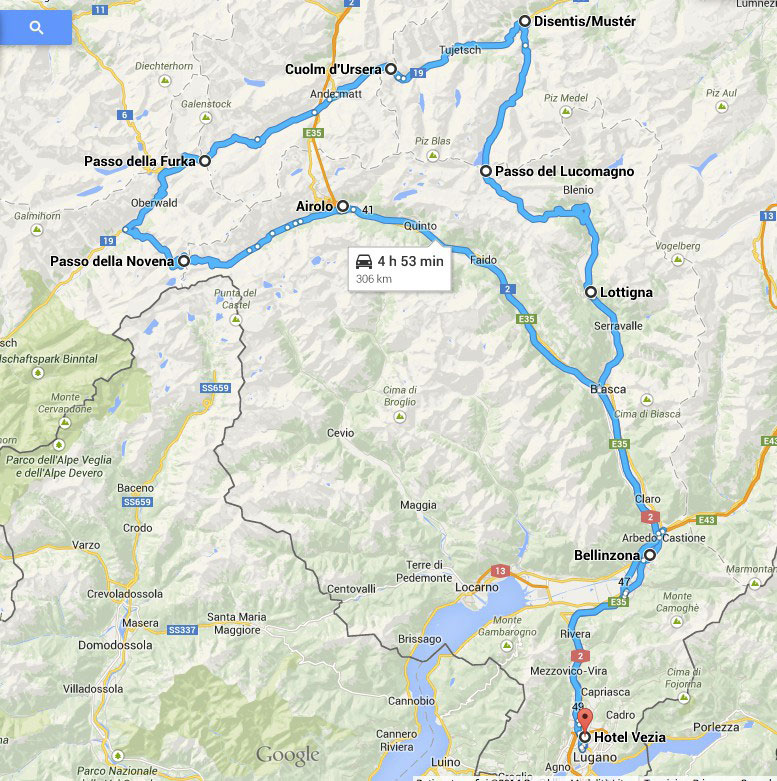 Tour Nr. 4. Tour length about 360 km.
Duration of the tour: about 6 hrs. IMPORTANT! Suggested only in good weather.
---
Tour Guide
Vezia
Bellinzona
Airolo
Bederetto
Novena pass - 2478 m
Ulrichen
Gletsch
Furka pass - 2431 m
Andermatt
Oberalp pass - 2044 m
Disentis
Lucomagno pass - 1916 m
Olivone
Lottigna
Biasca
Bellinzona
Vezia
Specials:
Bellinzona:

The capital of the region Ticino with its amazing medieval castles (UNESCO).

Novena pass:

The highest mountain pass in Switzerland (2478 m altitude).

Furkapass: Rhone glacier.

Visit the ice tunnel.

Disentis:

Visit the historical abbey.

Lottigna:

For people who like weapons, there's a museum with a large collection.
The mountain passes are open from May to November.